Drawing from the wisdom of our Managing Director, Stuart Douglas, let's take a moment to revisit his enlightening interview with Octopus Electroverse. In this conversation, we delve into PoGo's past, present, and future, uncovering our journey and vision for the world of EV charging.
Charged: 15 questions with… PoGo
PoGo's mission is to eliminate the inconvenience of long charging times by providing best-in-class rapid and ultra-rapid chargers. Allowing people to focus on enjoying life's journey, making EVs the natural choice for all daily and adventure-driven journeys – that's why we're delighted to be welcoming them onto the Electroverse.
Let's chat PoGo…
Give us a bit of background — how did PoGo start?
PoGo started from a desire to do more. We are part of a group that has been operating in the EV charging industry for years now, but we felt we could do more to help the nation power and go. So we got together a team full of passion, and we got on with it. We're proud to have come this far, and we're just getting started!
What makes PoGo different from other charging networks?
What sets PoGo apart from other charging networks is our unwavering commitment to the driver's experience. We understand that convenience, reliability, and accessibility are key factors in embracing electric vehicle ownership. That's why we've designed our charging network with drivers in mind. From expanding our network to strategic locations to regular maintenance and multiple charging options, we go the extra mile to ensure a seamless and stress-free charging experience. Plus, our dedication to sustainability shines through with our use of 100% renewable energy, contributing to a cleaner planet.
How does PoGo select charging station locations (it appears from the website that drivers can get in touch with suggested sites/locations)? And how are these prioritised?
Our selection process accounts for various factors, including the demand for charging in specific areas, accessibility, proximity to amenities, and the potential to serve a larger number of drivers. We prioritise locations based on a careful evaluation of these factors to ensure that our charging stations are strategically placed for maximum convenience and impact and always with a data-driven approach.
Separately, we believe in the power of community and collaboration. We welcome drivers to get in touch and suggest potential charging station locations. We value their input and consider these suggestions when expanding our network. By involving drivers in the process, we create a network that truly meets their needs and serves communities.

Howard Town PoGo site, Glossop
As EV adoption continues to accelerate, the demand for more chargers on the public charging network is also increasing – how is PoGo going to help?
Uptake of EVs in the UK is growing consistently, and as such PoGo is looking to do its bit in meeting the demand for ultra-rapid provision across the country by targeting roadside, retail and hospitality venues, with a target to install 2,000 ultra-rapid chargers in the next four years.

We know it is not just PoGo that is committed to deploying rapid charging in the UK, the wider industry is doing so too and we truly welcome it.

What we bring to the mix is both the volume of chargers we are looking to deploy at speed, and the fact we are taking ultra-rapid charging outside of motorway service stations and key locations off strategic roads into other convenient locations such as hotels, retail parks, restaurants, pubs, etc. It is not only more chargers that the public needs – they need more reliable and accessible chargepoints.

This comes through our ongoing development of both hardware and software to stay in line with the fast-moving technology available in the industry, as well as listening to our driver's feedback and implementing changes to improve their charging experience.
It's great to see that PoGo is committed to making EV charging as accessible as possible – can you explain what steps are being taken to make this happen?
We have embedded the PAS 1899:2022 guidance into our site selection criteria and design standards including but not limited to site layout, bay size, hardware and software as well, to ensure our sites are welcoming and simple to use for all.

We truly believe that embracing accessibility is the only sustainable way forward for any EV charging infrastructure business to truly provide excellent customer service. We work very closely with landlords to agree on fully accessible designs on our sites, and when sites are space constrained, we look for innovative ways to deliver as much accessibility as possible on a given site.

What we have learned is that this is not black and white, and every site is different – as such, we take every site as a unique challenge and always strive to make the most of the space available, with accessibility in mind.
It was really interesting to read about the Kew Green Hotels Partnership – can you tell us a little more about what to expect?
We are extremely pleased to have partnered with Kew Green Hotels, with whom we share the same values and commitment to customer experience and sustainability.

The partnership will bring a minimum of 40 new EV charging hubs to prime locations across the UK, adding 200 charging stations to our network. We are well underway with our development activities, and we have formed a very strong working relationship with Kew Green Hotels, which will bear fruits very soon – we are expecting our first site to go live in the coming months.

These hubs will include 200kW ultra-rapid charging stations and AC stations for overnight charging.

This collaboration is a major step forward in improving the availability and reliability of on-the-go charging for EV drivers and supports Kew Green Hotels' commitment to sustainability.
It's awesome that PoGo chargepoints run on 100% renewable energy – was an EV charging network powered by renewables always the goal?
From the start, our goal at PoGo has been to provide clean and sustainable charging solutions. It would frankly be quite hypocritical of us to say we truly believe in sustainable transport and encourage people to change to EVs if we were supplying our energy from non-renewable sources. Supplying our infrastructure with 100% renewable energy is not just a choice for us, it is a non-negotiable fundamental value of our business.
Leading on from this – it's fantastic to see PoGo as one of the founding members of Charge UK! Can you tell us more about what Charge UK promises to deliver; and the roadmap to getting there?
It is indeed! We are very excited about the potential of ChargeUK, and we're proud to be one of its founding members. This was a much-needed step for the industry and one that is already proving its worth by aggregating the industry's voices into one.

Our collective goal is to ensure that drivers have access to a high-quality charging solution, anytime and anywhere across the UK.

Together, we are dedicated to investing over £6 billion by 2030 to deliver and operate a world-class charging infrastructure, supporting economic growth, creating jobs, and driving the UK's transition to electric vehicles. With a roadmap focused on collaboration and innovation, ChargeUK aims to shape the future of EV charging, making it convenient and accessible for all. Stay tuned for exciting developments as we drive towards a greener future!
If a driver runs into an issue when charging with a PoGo chargepoint, how is best for them to get in contact?
If a driver runs into an issue when charging with a PoGo chargepoint, the best way to get in contact is to reach out to our 24/7 customer support team. Our fantastic, award-winning team are there to help everyone through any issues they may encounter. Drivers can easily contact our support team through the in-app/at-site contact details.

What I would say to our customers is that it is our responsibility to ensure they have a seamless and enjoyable charging experience – and if for some reason that is not the case, please, reach out to us. We are committed to delivering excellent service, and our drivers' feedback is key to that.
Why are partnerships like PoGo and Octopus Electroverse crucial to the public charging infrastructure?
Partnerships like PoGo and Octopus Electroverse are crucial to the public charging infrastructure because they break down barriers to access chargepoints, ensuring more drivers can access more chargepoints, easily.

Thankfully, gone are the days of having to download hundreds of apps to be able to charge, and most operators support contactless payment on rapid charging. We are of course committed to offering contactless charging on all our DC charging infrastructure, but we need drivers to be able to roam between networks and agreements like ours with Octopus Electroverse enable drivers to do just that. These partnerships enable us to leverage our strengths and deliver a more robust and interconnected charging network for the benefit of all.
About you…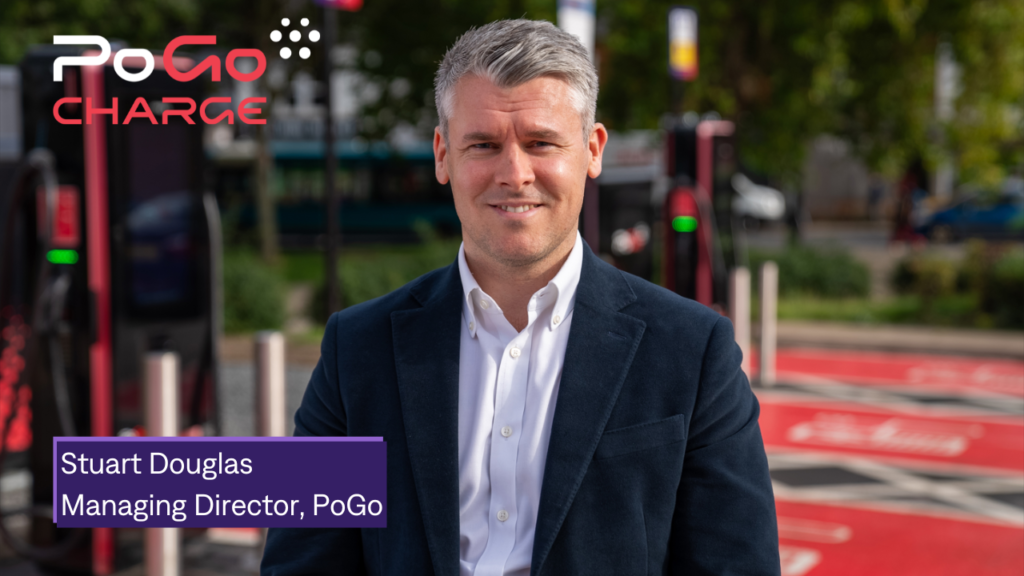 Stuart Douglas – Managing Director, PoGo
What's your dream electric vehicle?
I do love the Porsche Taycan. For local everyday use and something more affordable, I think Fiat has done really well with the 500 Electric.
What's the longest journey you've completed in an EV – and can you share the total mileage?
That would be a return trip to Manchester, visiting the first PoGo hub with some of our partners. Once you get used to an EV, a tiny bit of planning at the start to ensure you schedule a tea break close to a charging hub helps to take any anxiety away.
I drive an EV almost every day and make lots of long-distance trips – I haven't run out of charge yet (I hope I don't regret saying that!).
Do you have an EV life hack to share with the EV community?
If you have routine travel patterns and make the same trips each week, then you'll build a pattern of charging and will understand the infrastructure around you. If you're life and travel patterns are a little more dynamic, then planning will become your best friend!
What advice would you give someone looking to use a PoGo charging location for the first time?
Tell your friends and colleagues about the newest network in town, and leave us a review!
And finally – an EV etiquette question – what would you say is the golden rule to using a public charger?
Please don't stay plugged in once you've finished charging, no one will thank you for that!
Head over to the Octopus Electroverse website to learn more on the offering.
At PoGo we are incredibly proud of the strides made in our mission to revolutionise the EV charging landscape. Stuart's insights shed light on our unwavering commitment to drivers, accessibility, sustainability, and innovation. We're excited to continue our journey, expanding our network, forging meaningful partnerships, and delivering a seamless charging experience to all. Thank you for joining us on this electrifying ride toward a greener future. Stay tuned for more exciting developments, and don't hesitate to reach out to us anytime you need a helping hand on your EV charging journey.